Information:
Centro Pepe La Sal Benissa
Ctra. Moraira-Calpe, Km 3
03720 Benissa - Alicante
Tel:965 74 72 25
Centro Pepe La Sal Benitachell
Sector A - Cumbre del Sol, 0 S/N
03726 Benitachell - Alicante
Tel:966 49 36 97
Centro Pepe La Sal Moraira-Teulada
Edificio Ribeiro. c/ Las viñas
03724 Moraira-Teulada
Tel. 36 649 15 99
Centro Pepe La Sal Moraira-Teulada
Centro Comercial Barclays
Crta. Moraira-Teulada, 0.5 Km
03724 Moraira-Teulada
TEL. 96 574 40 86
Special Packaging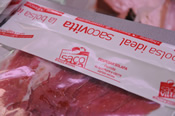 At PEPE LA SAL supermarkets we are always aware of the need for hygiene and food safety. For that reason we use special containers and packaging for those products that require particular conservation.
In the delicatessen section we use 'Sacovitta', a packaging that allows longer life to foodstuffs, this bag maintains the freshness and conservation of the food.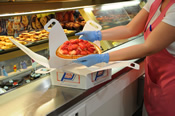 In the bakery and patisserie section, we also have special packaging and boxes so that any cake or pastries will arrive totally intact.
Our customers can always ask for items to be vacuum packed, free of charge – a process which allows the product to maintain its aroma and flavor. And not forgetting the special gift boxes which give an elegant air to any product as well as conserving freshness.